Welcome to M & M Rutland Specialist Butchers
Famous Home Made Luxury Haggis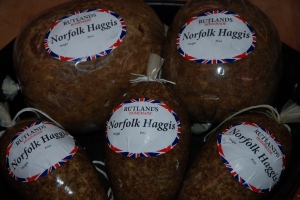 We make our own home-made luxury Norfolk Haggis and Haggis Sausages.
We have been making haggis since 1998, we never dreamt how popular it would become with our customers, or indeed Norfolk and how really delicious it turned out to be.
Curried Haggis and Vegetarian Haggis also available.
Steamed, Simmered, Baked or Microwaved (apologises to the Purists here), this hot, steamy, spicy dish traditionally served with Buttered mash and creamy Neeps is bursting with flavour and goodness, also full of Protein and Fibre.
(Don't forget the Gravy, single malt preferred,)
A very warming comforting meal as autumn and the cold days of winter approach, A huge amount of Haggis is consumed at Hogmanay and even more on Burns night or for that matter, any night.
We also make Haggis sausages, lovely for Bonfire night on the BBQ, they really get your taste buds tingling.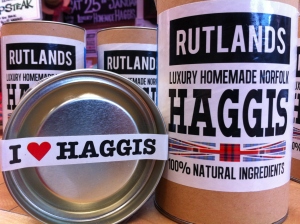 Haggis in a Tin makes a lovely gift.
Our Haggis has been taken all over the country by customers who have holidayed in Norfolk and taken them back to their Scottish friends. A suitcase full was even taken to a Golf Club in Portugal for ex-pats to celebrate Burns night.
In all "HOT STUFF"
Available all year round in a variety of sizes.
As seen on Anglia Television's 'Good Food Guide' and About Anglia.
Also BBC Look East. "Burn's Night Special" Available All Year Round.
Ways to eat Haggis
Traditionally ----Simmered in Water then served with" Neeps and Tatties".

Haggis Lasagne-------using Haggis instead of meat.

The Flying Scotsman---------Chicken breast stuffed with Haggis and wrapped with bacon.

Haggis "bangers" and Mash-------so tasty with a Whiskey gravy.

Haggis Shepherd's pie-------- ˝ Haggis ˝ Minced lamb with mash on top.

Haggis Fritters-------with a Poached or Fried Egg on top.

Haggis parcels----------Filo pastry stuffed with Haggis ,,,,,makes a Fab starter.