Welcome to M & M Rutland Specialist Butchers
M & M Rutland Specialist Butchers are a traditional, well respected family run Butchers situated in Melton Constable, North Norfolk and are dedicated to provide and serve quality local products, properly produced for you.
Established in 1972, a real Family Business.
Christmas Fare from M & M Rutland
| | |
| --- | --- |
| Norfolk's finest, free-range, naturally reared Norfolk Beef, (matured on the bone 4 weeks), Free-range Norfolk Pork, Free-range Lamb, Free-range Chickens, Ducks, Wild Boar, Local Venison and Game. | |
Christmas Fare
We supply 'Free Range' Norfolk Black Turkey, Norfolk Bronze Turkey and Norfolk White Turkeys,
Lovely Geese, Ducks and Chickens.
Local oak smoked Gammon and Home cooked Hams.
Our famous Homemade sausages, 40 different varieties, also Chipolatas, Cocktails and Sausagemeat, all Low fat, Low Salt. All made with free-range Norfolk meats, many Gluten Free.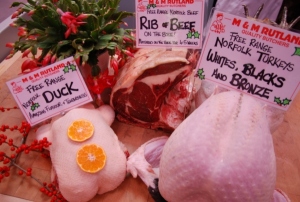 Our superb Special homemade "Christmas Flavour" sausages, makes a lovely stuffing.
Try our Mini Hog Roast or our Butterfly cut Leg of Lamb, Special for Christmas Eve or that Winter Dinner Party.
NEW ..... "Luxury Game Sausage" made with local
Pheasant, Duck, Partridge and Venison
a delicious "Taste of the Wild"
Our famous Homemade "Norfolk Haggis", for Hogmanay and Burns Night (January 25th), available all year round, perfect for a Starter or Main meal with "neeps and tatties".
Wishing you all a very Merry Christmas and a Happy New Year.
From the Rutland Family and Staff.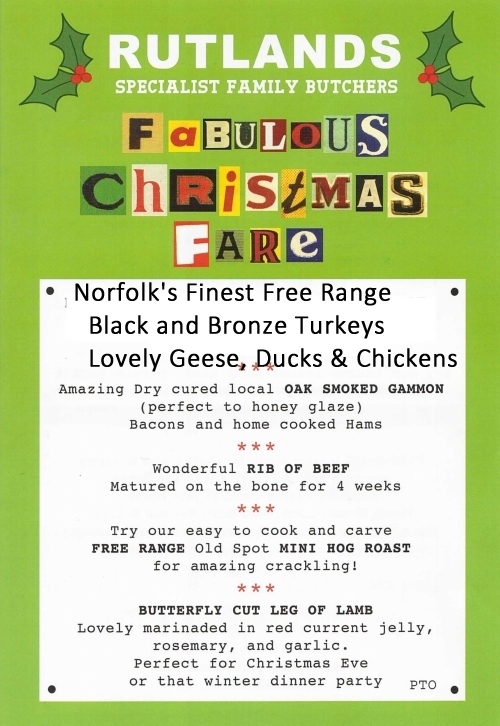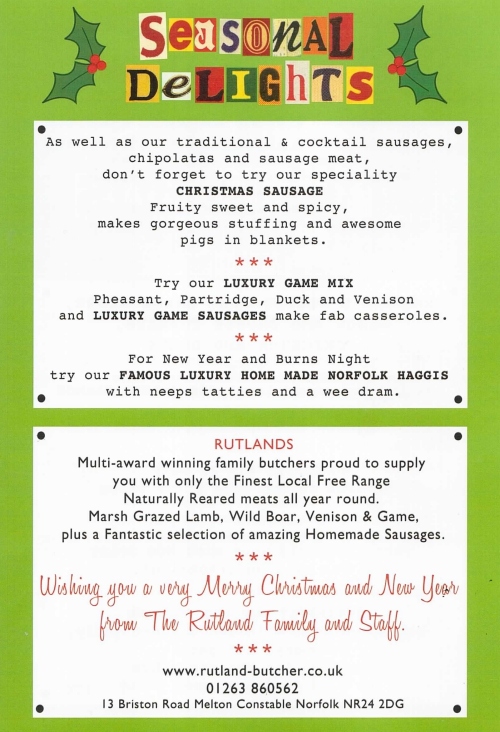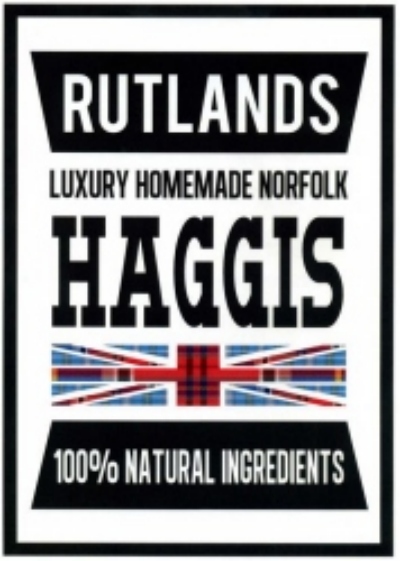 Famous Home Made Luxury Haggis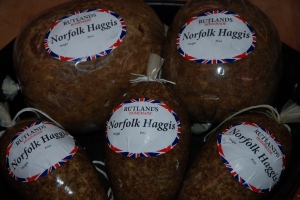 We make our own home-made luxury Norfolk Haggis and Haggis Sausages.
We have been making haggis since 1998, we never dreamt how popular it would become with our customers, or indeed Norfolk and how really delicious it turned out to be.
Curried Haggis and Vegetarian Haggis also available.
Steamed, Simmered, Baked or Microwaved (apologises to the Purists here), this hot, steamy, spicy dish traditionally served with Buttered mash and creamy Neeps is bursting with flavour and goodness, also full of Protein and Fibre.
(Don't forget the Gravy, single malt preferred,)
A very warming comforting meal as autumn and the cold days of winter approach, A huge amount of Haggis is consumed at Hogmanay and even more on Burns night or for that matter, any night.
We also make Haggis sausages, lovely for Bonfire night on the BBQ, they really get your taste buds tingling.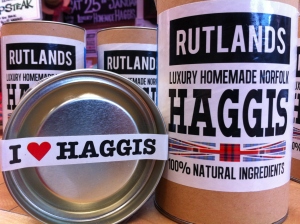 Haggis in a Tin makes a lovely gift.
Our Haggis has been taken all over the country by customers who have holidayed in Norfolk and taken them back to their Scottish friends. A suitcase full was even taken to a Golf Club in Portugal for ex-pats to celebrate Burns night.
In all "HOT STUFF"
Available all year round in a variety of sizes.
As seen on Anglia Television's 'Good Food Guide' and About Anglia.
Also BBC Look East. "Burn's Night Special" Available All Year Round.
Ways to eat Haggis
Traditionally ----Simmered in Water then served with" Neeps and Tatties".

Haggis Lasagne-------using Haggis instead of meat.

The Flying Scotsman---------Chicken breast stuffed with Haggis and wrapped with bacon.

Haggis "bangers" and Mash-------so tasty with a Whiskey gravy.

Haggis Shepherd's pie-------- ˝ Haggis ˝ Minced lamb with mash on top.

Haggis Fritters-------with a Poached or Fried Egg on top.

Haggis parcels----------Filo pastry stuffed with Haggis ,,,,,makes a Fab starter.
NEW LUXURY HOMEMADE VEGGIE / VEGAN HAGGIS!
YES, WE HAVE DECIDED TO GO GREEN AND MAKE SOME VEGGIE/VEGAN HAGGIS.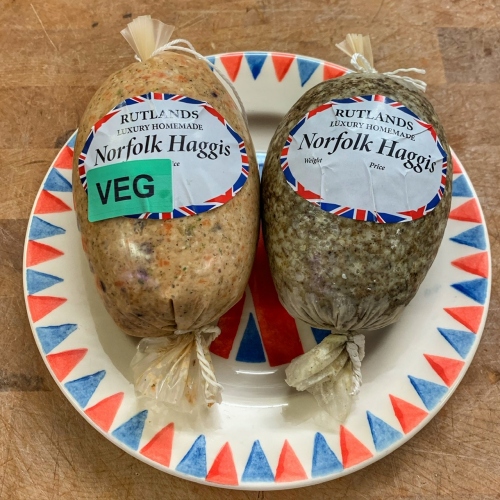 FULL OF AMAZING HEALTHY INGREDIENTS;
POTATOES - CARROTS - ONIONS - PARSNIP - SWEED - BROCCOLI.
AND WITH OUR AMAZING MIX OF HERBS, SPICES AND OATMEAL TO MAKE THEM TASTE DELICIOUS!
BURNS NIGHT JAN 25th
NEW ..... "Luxury Game Sausage" made with local
Pheasant, Duck, Partridge and Venison
a delicious "Taste of the Wild"
Our famous Homemade "Norfolk Haggis", for Hogmanay and Burns Night (January 25th), available all year round, perfect for a Starter or Main meal with "neeps and tatties".
Delicious Local Free-range "Spring Lamb"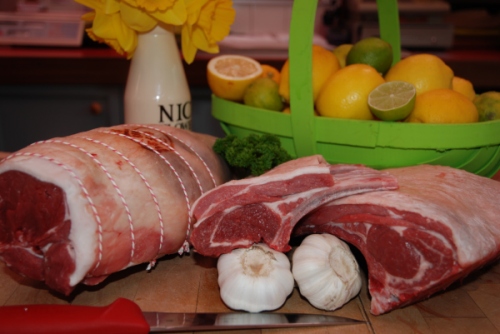 Succulent LEG OF LAMB Joints, Steaks or Butterfly Cut
Succulent SHOULDER Joints, Steaks, plain or marinated
RACK OF LAMB, Crown, Guard of Honour, Chops or Noisettes
Your Choice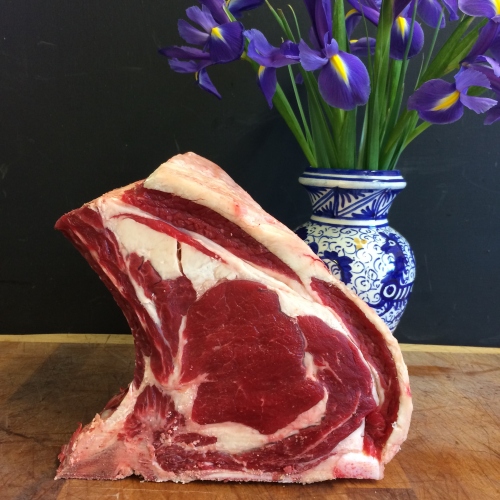 40 different flavours of Super Sausages.
Barbecue Specialities and DIY Hog Roast
Home-Made Burger Range
Pork and Apple Burgers
Minty Lamb Burger
Lamb and Feta Burger
Chicken and Sage Burger
Sweet Chilli and Garlic Burger
Beef, Sweet Chilli and Red Onion Burger
Smokey Joe Burgers (Pork, Smoked Bacon, Cheddar and Onion)
6oz Luxury Burgers (Steak Burger 'Jamie Oliver' style)
100% Beef - 2oz - 4oz - 8oz
Many are GLUTEN FREE
Exotic Home Made Kebabs
Steak, Peppers and Red Onion
Chicken Fillet, Bacon, Mushroom and Red Onion
Lamb, Apricot, Mixed Peppers and Red Onion
Sweet Sticky BBQ Pork and Pineapple
Spicey Greek Kebab
And many more ...
Range of Ribs and Sauces
Sweet Sticky BBQ Ribs
Spicy Greek Ribs
Smokey Baby Back Racks
Thai and Chinese Ribs
Jerk Chicken, Honey and Mustard Chicken and Sweet Thai Chicken Portions
Marinaded ready for the bar-b-q.

Do It Yourself Hog Roast
Easy to cook, easy to carve Mini Hog Roast.
Fantastic for small Parties and BBQ's.
Anything from an intimate two person roast to a wild hundred person gathering.
And the best bit, it has the most amazing crackling ever!
Butterfly Leg of Lamb
A delicious and different way to cook Lamb.
Can be cooked plain or lends itself to be marinaded eg Olive Oil, Rosemary, Garlic, Lemon, etc
WE STILL HAVE A GREAT SELECTION OF AMAZING FREE RANGE NORFOLK MEATS AVAILABLE.

HOWEVER PLEASE ORDER WHERE POSSIBLE TO AVOID DISAPPOINTMENT.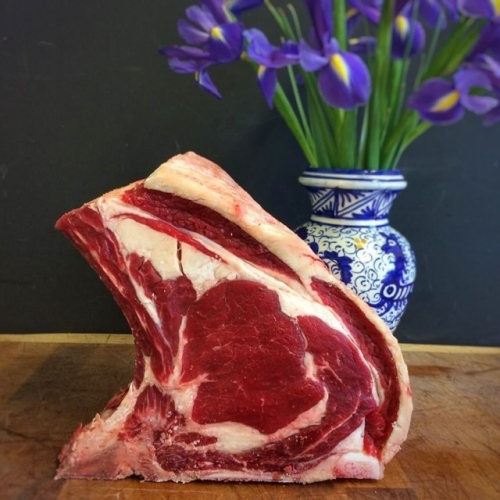 RIB OF BEEF
WE HAVE SOME DELICIOUS SPRING AND OLD SEASON LAMB AVAILABLE!
WE CAN CUT JOINTS OF ANY SIZE!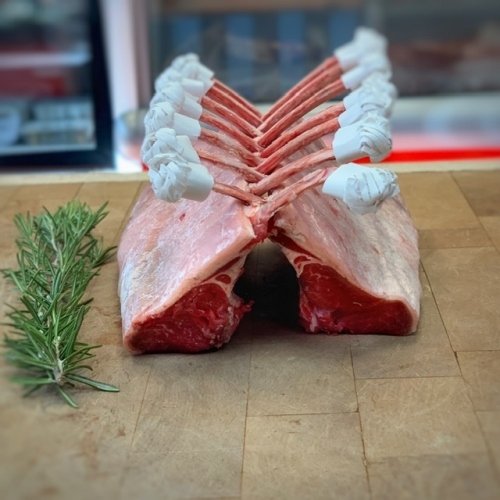 WE ARE HAPPY TO TAKE YOUR ORDER OVER THE PHONE AND HAVE IT READY FOR YOU TO COLLECT.
WE ARE ALSO HAPPY TO BRING IT OUT TO YOUR CAR FOR YOU.

PAYMENT CAN BE MADE OVER THE PHONE OR BY CARD ON COLLECTION.
MANY THANKS AND BEST WISHES.
WE ALSO HAVE AN AMAZING SELECTION OF HOMEMADE FREE RANGE SAUSAGES IF YOU'RE THINKING OF GETTING THE BBQ OUT

OPENING TIMES:
MON - FRI
08:00 - 17:00

SAT 08:00 - 13:00
SUN - CLOSED
CLOSED BANK HOLIDAY MONDAYS
Rib of Beef
Please order as soon as possible.